Best collages in india for enginnering - Roorkee
Friday, 17 November 2017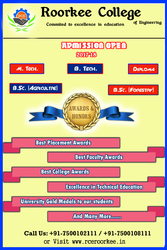 Item details
City:
Roorkee, Uttaranchal
Contacts

7500102111

7500102111
Item description
RCE is an institute synonymous to holistic approach where we strive to reach out, educate, mentor & guide all those who choose their career in the field of technical education.
RCE is best engineering college in Uttarakhand.The infrastructure of the college is very developed. The campus surroundings are quiet and healthy which is helpful for studies.
The classrooms are well constructed, air conditioned and have space for about 150 students. It has a well-organized library with easy book search and reading facility.
The college has an excellent hostel and sports facility.The faculty here is good and supportive, teachings are done with modern methods like power point presentation
and practical views experimentation.