Best B.Sc forestry college in roorkee - Roorkee
Tuesday, 4 July 2017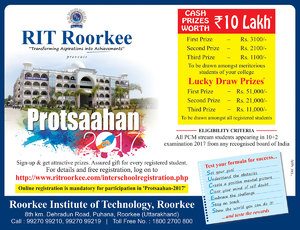 Item details
City:
Roorkee, Uttaranchal
Contacts

nishant

9927099219
Item description
Roorkee Institute of Technology (RIT) and Himalayan College operate in unison under Himalayan Charitable Trust. B.Sc. Forestry program is 4 years regular degree program. The main aim of this program is to train students to become Forestry professionals. The tasks of forestry professional are- conserving forest and forest resources, conserving and protecting wildlife, manage forest resources, develop forest and forest resources etc. B.Sc. Forestry program trains students and instills skills in them, which will help them perform the above mentioned tasks. Also, the program has been designed to provide the students knowledge about latest technology used in the field of Forestry.
Forestry is the science and art of managing tree plantations, forests and related resources.
Eligibility:
• All students must have passed 10+2 (with science stream) examination with a minimum of 45% marks can join the B.Sc. Forestry.
• The students are generally admitted on the basis of personal interview and written examination conducted by institute/university or admit student on merit basis.
• The course is affiliated with Hemwati Nandan Bahuguna Garhwal University (A Central University) Srinagar (Garhwal) Uttarakhand
B.Sc Forestry : Job Prospects
Ample job opportunities are available for B.Sc. Forestry graduates in the Forest Department of Indian Government. One may land the job of a forester or forest department officer in State Governments' Forest Department. For this, one has to go through the selection process and examination though. In case of private sector jobs, some job posts available are- plantation and resort manager, forest product marketing, forest products purchasing manager, Research and Development sector etc.
One may also follow up B.Sc. Degree with M.Sc. Degree and take up a teaching job also. Some good job posts available for graduates are
Officer- State Governments' Forest Department
Plantation Manager
Nursery Manager
Forest products marketing
Purchase Manager (Forest products
Researcher (after completing M.Sc. and PhD programs also
Lecturer (after completing M.Sc. Degree also).